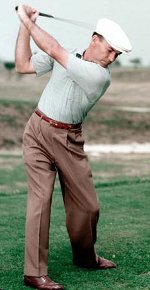 "Well the most important thing in the golf swing to me is the movement of the lower body from the top of the swing. And if you don't mind I'll demonstrate. First off, you start down below with your knees and your hips. At the top of the swing, you move the lower part of your body, not your shoulders, the lower part of your body, letting your arms and hands follow, bring you into position to hit. This is the first movement... there (swish)... then you release at the bottom. Most people do it entirely opposite. They rotate their shoulders first instead of their lower body. As a result they come across the ball and hit the outside of the ball instead of the back of it. If you don't mind, I'll hit a ball... and the first thing to watch is what starts first from the top of the swing."
Ben Hogan bends down and gently places the ball on the tee. In slow motion his perfect swing comes down and strikes the ball with amazing precision, launching the ball forward right down the middle of the fairway, his follow through coming through high and mighty.
Some videos:
Ben Hogan is widely acknowledged to have been the greatest ball striker ever to have played golf. In his career lasting from 1938 to 1959, Ben Hogan had 64 PGA Tour wins and won 9 Major tournaments. He became just the second player, after Gene Sarazen, to win all four of the modern major championships. In 1953 he won the British Open Championship, the only time he played the event.