Rex Allen Gish MD
article / nut tree inn / father-son tournament / like father like son / my father's life / things in common / yellow rose of texas / other thoughts / dad, i will miss you / last signature / final resting place / dream
They say that when the father passes away he not only takes a piece of his son with him but he also leaves a piece of himself within his son. This is very true. Here are just a few items to remember my dear father by, which is very important for me.
Article
The following announcement appeared in the obituary section of the Monterey Tribune newspaper:
MONTEREY

Rex Allen Gish

Rex Allen Gish, M.D., a retired Salinas physician, died Friday at Salinas Valley Memorial Hospital. He was 83.

He was born Sept. 19, 1917, in Lawrence, Kan., and lived in Monterey County for 32 years.

Dr. Gish graduated from the University of Kansas Medical School in 1942. He served in the Navy during World War II as a combat medical officer in the Pacific. He retired from anesthesiology in 1974 and practiced general medicine in Salinas until 1983.

He was a diplomat of the American Board of Anesthesiology and a retired member of the American Society of Anesthesiologists and the Monterey County Medical Society.

An avid golfer, Dr. Gish was a member of Corral De Tierra Country Club for 30 years.

He is survived by his wife, Colette; three sons, Michael Gish of Palo Alto, Max Gish of Fresno and Kiffin Gish of the Netherlands; four daughters, Bonnie Palacios of Floydada, Texas, Margaret Miller of Clovis, Martine Scott of Fairfax, Va., and Kathleen James of San Diego; a sister, Faye Jean Sturm of Derby, Kan.; nine grandchildren; and numerous great-grandchildren.

At his request no services will be held. Inurement will be at Arlington National Cemetery. Struve and Laporte Funeral Chapel of Salinas is in charge of arrangements.

The family suggests that any memorial contributions be sent to the American Cancer Society, Suite 22, 220 Country Club Gate, Pacific Grove 93950; or to the donor's favorite charity.
Nut Tree Inn
When I was a little kid, my Dad and I stopped at the Nut Tree Inn just outside of Stockton. After a short break during our long ride to who knows where, we took a picture in one of those photo booths. You can see the result here to the left. I am only four years old. I had this rash on my chin all the time, because I tended to slobber alot. So it is in the year 1961 I think. That means that in the picture my father was as old as I am now. I am younger than all of my children now. Strange, isn't it? To the right I am sixteen at the same place. We've changed a little, but not that much, I think.
| | |
| --- | --- |
| My Dad and I way back in 1961. | Very same place 12 years later. |
Father-son tournament
One of my favorite memories is when we won the Father-Son Tournament at Corral de Tierra, way back in 1973, I think it was.
We were quite an amazing twosome, playing our best round ever. We were a foursome with Bill Chapman and his father who came in a close second place.
Here to the left is an old yellowing article which I have saved and still cherish to this very day.
Dad used to refer to me on the links as his "sweet swatter" and at home simply as his "buddy."
Those sure were the good old days, were they not?
Like father like son
Like father son, the saying goes. There are many things that I currently do with my own children that my father often/sometimes did with me, namely the following:
While driving the car and if they are in the passengers seat next to me, pinching their left knee between forefinger and thumb, until they giggle aloud for me to stop it.
Burying my nose in their hair and smelling the sweet, youthful freshness with a deep breath.
Taking long walks with one or the other.
Kissing them on the lips, a bit too juicy and wet.
Running my fingers through their hair, scratching and massaging their scalps lovingly.
Saying: Want a Hertz Donut? Then slugging the boys' shoulder, and then replying with: Hurts don't it?
Giving them a so-called Indian Burn.
Calling the two boys my Big (Lennart) and my Little (Maarten) Buddies.
Every Sunday is trash day, and I wander all through the house to empty all of the trash cans. If someone decides to toss even a small wad of paper in a trash can I have just emptied, I can become quite irritated.
Trading punches to see who is the strongest.
Hugging the kids tightly which feels really good.
"Life is a great surprise. I don't see why death should not be an even greater one." – Vladimir Nabokov.
My father's life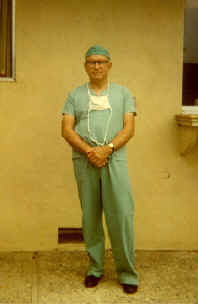 My Dad was a practicing anesthesiologist in Salinas.
Now that my father has passed away, it is not my intention to glorify him with exaggerated zeal. My fathers life was not very easy at all. He was not very often happy, and for some reason his depressions ruled his life to a great degree. Perhaps it was his youth, the war experiences, a chemical imbalance, the way he was, or a complicated combination of all of the above which made him how he was. He complained alot about life and whenever the slightest thing went wrong he accused the world out loud of always being against him. He cussed, growled and grumbled. He was fixated on neatness, so impatient that he could not wait a minute, and he was so honest at times to be rude. As a kid you are by nature embarrassed by your parents, and certainly things seem worse than they really were. Now that I am older I realize this. He did have a very positive side to him, and that is how I would also like to remember him. He was emotional, loved his children greatly, was very giving. He always worked hard, even when he was feeling depressed. In his own words, he would "drag" himself out of bed to go to work. He was actually proud. He gave away his money freely. During the last years of his life he never let me forget that he was proud of me. It could have all been different, but it wasn't. Otherwise, I would not have become the person I am today.
My father blessed me by giving me life, and now I must carry that precious flame into the future, eventually passing it onto my own children.
Things in common
I have acquired a number of traits from my father, things that as I grow older become eerily common. Below is a brief list of those endless twists of personality, intelligence and spirituality, both positive as well as negative:
Keep track of things in the past, remembering important dates, either historical events are just things that have happened in my life. Exactly 10 years ago to this day...
Very emotional about my children, films and music.
Getting bald, though at an older age and much slower. Honestly do not care one bit. That is how I am.
Find it very important to be well off, support my family, have a house and a big, comfortable car.
Drink too much black coffee, pure and unadulterated, the stronger the better.
Impatient with work, getting bored too quickly, and looking for new challenges.
Very persevering, often almost to an extreme.
Do not drink or smoke.
Impatient, wanting to go.
Talking (whispering) out loud to myself without realizing it, because there are so many rampant thoughts going around in my mind which require some form of release.
Fixated on things that have to be done immediately and impatient when this cannot be realised.
Cannot resist chocolate, peanuts and fatty foods.
An interest in Eastern philosophy combined with a tendency to be too critical about Western civilization.
Save everything which I cannot ever throw away, like souvenirs, old clothes and shoes, letters or pictures, things my kids have made for me, a notes from Thea when I first met her.
Super neat, fixated on goals and impatient until the next objective in life has been acquired, be it finishing a project, book, or just driving some place.
Slurping my coffee or soup loudly, and then sighing with obstreperous enjoyment. This helps me release energy.
Love to go to the movie theater, but also watch the old black-and-white films on the television.
Patriotic and truly American in my blood.
Ad infinitum...
Yellow rose of Texas
My father's favorite tune was the Yellow Rose of Texas, perhaps because of its roots to the Civil War, his patriotic feeling or even his love of that state -- even if he was born in Lawrence, Kansas.
Other thoughts
The following excerpts are taken from a recent response of mine to an email I received from a kind person who was experiencing similar thoughts and feelings concerning the death of a father (who also happened to be a WWII veteran). I have included parts of the email with the person's express permission, in the hopes that the inspirational thoughts can someday help others in similar circumstances. Where appropriate I have taken the liberty to paraphrase certain sentences.
"One could say that after the war my father remained a miserable person, often depressed about life, and I am convinced that the war was not good for him. Certainly from birth, I feel he had these propensities towards depression and paranoia, but the war made them ten times worse than they should have been. The ironic thing is that he kept it all inside of him, and rarely spoke about them. Never any details, just things like how he saw many fine young men my age get killed, about the japs, the ship he was on, general stuff like that."
"When I was little I was of course very curious, asking questions like what did dead people look like, had he ever killed anyone (no he was a doctor, even saving the life of a Japanese prisoner once, see here), but he never ever answered me beyond a brief yes or a no. I felt really bad about this. I wanted to know so much more, and I hoped that by talking with him, I could make him feel better about life. Why didn't he tell me? This is difficult for a child to understand, and with ignorance comes self-doubt. When my father got all depressed again, lay in bed or went to some hospital for recovery, I thought I could really help him. I wondered if maybe I too was a cause of all this, my inability to reach out and understand him. I spent many waking hours at night figuring out ways to accomplish this, but they never worked. Because of the 'failure' of mine I began to entertain feelings of guilt. These guilt feelings grew and grew, eventually helping to result in my very own devastating depression a few years back."
"As my father got older, I thought that it would be nice to talk to him before he died, get all these pent-up feelings straightened out. It never happened. There were enough opportunities, but it never happened. My poor father just did not want to talk about these awful memories and there was absolutely nothing I could do about them. I had to learn to accept this, release myself from this suffering of my father and let it be. I had my own life, and I realized that it was up to me as the oldest son to carry the torch he had sacrificed to me by going to war and all. He had also sacrificed a part of his soul not only for the freedom of others, but also to return home and create the wonder called you."
"When my father lay on his deathbed, I felt terrible. Really really terrible. The rest of my family had been pained by his misery for too many years, and they felt more relieved to get him out of their lives. This made me feel even worse. Now it would never happen, me having that miracle talk. Even if I had learned to accept the fact that I could never help him, death is pretty definite. Literally as well as symbolically my chance would be gone forever. But he wanted to die. He had repeated it endlessly years on end that he just wanted to die, that he did not deserve to live, that the world was a terrible place, that sort of thing. This was the moment we had all been waiting for, the moment he had always strived towards."
"... at the same time I knew he loved us very, very much. He had done alot of things with us and had done his best to make our lives worthwhile. I think he saw hope in the world through his children. The very last phone calls I had with him before he got sick, he would end the conversations with 'I love you all very much.' This seemed out of the blue for me, and I was a little caught off guard as I was not used to him being this way. Now I know why. For three years he had known he had cancer of the rectum, and he had hidden this secret from us that he would be dying soon."
"So when I heard that he had been operated on and that things didn't look good, I flew as quickly as I could to be by his side. After traveling nearly twenty-four hours in desperation and not knowing if I would arrive in time or not, I finally made it to the hospital in the middle of the night. I had a big cry, sobbing, feeling sorry for myself. My father opened his eyes and saw me, raised his head and tried to speak. He couldn't say anything because there was this big breathing tube jammed down his throat. He gagged and struggled because there was something really important to tell me. But he could not tell me. I saw it in his eyes and the way he struggled. At first I panicked and was ready to rip that stupid tube free so that I could hear the answer. I just told him to relax, there would be enough time later to talk. That never happened. Of course after he died I felt guilt again, like I should have been there earlier when he could talk. But I have this feeling that it was nothing deeply philosophical, nothing more than a 'I love you' or something, definitely not the answer to all my questions, or the perennial answer to everything."
"This was a very symbolic event for me. My whole life I had wanted answers in normal situations, but they never came. Then just before he died the chance arose, but there was a breathing tube in his throat. He wanted to talk but couldn't. The truth of the matter was it was never meant to happen. I could shed my feeling of guilt and regret now, with the knowledge that there would be a day when I too would die. Then I could talk with my father in peace and all the answers would be revealed. Now, that was something to look forward to, prepare the rest of my life for, make up for the shortcomings of the past, a miracle chance showered down upon me from the almighty God."
Dad, I will miss you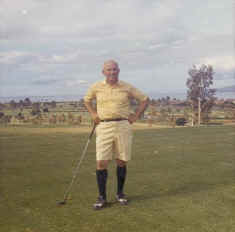 This is how I remember my Dad, playing golf with him in Hawaii in August 1970.
Dearest Dad,

I will miss you so very very much. The end came swifter than anyone could have suspected, but the time was always meant to be. Some day I too will wake up from this life of dreams. Then we will at last sit together again like the good old days, catch up on lost time, and finally exchange those things in the end we never had a chance to share. I love you Dad, and I will always remember you with a loving heart.

Your son,
Kiffin

October 22, 2000.
Last signature


Signature from Dad's very last letter to me, 18 September 2000.
Final resting place
On April 19th 2001 my father's ashes were put to rest at the Arlington National Cemetery during an honorable ceremony. The following excerpt from my mother's email describes the occasion quite well.
The dream
The death of a person close to you will affect you both emotionally and subconsciously. The emotional part you are aware of since you experience extreme sadness and there's an empty feeling inside. The subconscious part is a bit trickier and often comes to light through your dreams. Here's a dream about my Dad which illustrates that point.