Arlington National Cemetery
↑ rex allen gish md / final resting place / map / pictures
Final resting place
On April 19th 2001 my father's ashes were put to rest at the Arlington Cemetery during an honorable ceremony. The following excerpt from my mother's email describes the occasion quite well:
"Well, Daddy is finally in his resting place in Arlington. I think he would have liked the military ceremony they had for him. To tell you the truth, I was very surprised with the elaborate ceremony that went with the inurnment. At first we were greeted by an official who was waiting for us. He took Daddy's remains and put them in his car. He led us into the Administration office where I, as the widow, had to sign the papers. An Honor Guard came in with a lady representing the "Navy Families" who gave me her condolences. Then the Chaplain came. He was from Quebec and spoke French to me. He asked about Daddy in order to say a few appropriate words about him. He was very nice. Next, the cemetery representative directed us to the ceremony location. I did not expect to see a caisson pulled by 4 horses, and led by 2 horses mounted by officers, and a full Navy Band consisting of at least 30 people. Daddy's remains, in a velvet bag, were placed in a mock casket, covered by an American flag. The three of us walked behind the caisson while the band played the Navy Hymn and other inspirational music. We arrived at the courtyard behind the Columbarium, where we were seated. The 8 Honor Guards unfolded the flag and held it over the remains. The Chaplain said a few words, followed by a 21 gun salute. Then the bugler played "Taps". After that, the Honor Guards finished folding the flag into a triangle and after a final salute, they gave it to the Chaplain who presented it to me. Then we walked to Daddy's niche, and they had me place his remains inside. I also put some red roses inside with the ashes. The Chaplain said a final prayer, and they closed the niche with a temporary marker. They said that a permanent marker engraved with Daddy's name will be put up in about three months. It was a very impressive ceremony. Arlington is a beautiful place and since it is spring time the grounds were full of flowers (including tulips and pansies) and there were many pink and white blossoms on the trees. We were so lucky that the weather was nice."
Map
Here's a map of the part of the cemetery where my father has been interned. As you can see, his last resting place is not far at all from the Pentagon.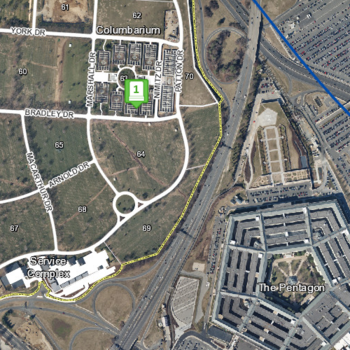 Pictures
Here are some pictures of the ceremony. Just click on any one to see the original size. Or jump directly to the Arlington National Cemetery Website.


Honor guard


Caisson


Flag folding


Flag presentation


Ashes placement


Dad's niche