Getting the luck of the draw and being able to start with number one out of the fifty contenders, is a once in a lifetime opportunity. Although you have to leave home at the crack of dawn in order to make it in time for the first early morning starting time, being the first off the tee is a symbolic gesture.
I also felt pretty good about may game and thought that who knows maybe I could get a lucky streak and win the tournament. In the past I've entertained similar illusions of fame, only to go into mental meltdown mode and shooting terrible scores. Just to play one shot at a time and enjoy the round as much as possible at this beautiful golf course, "Misschien Wel de Mooiste Golfbaan van Nederland."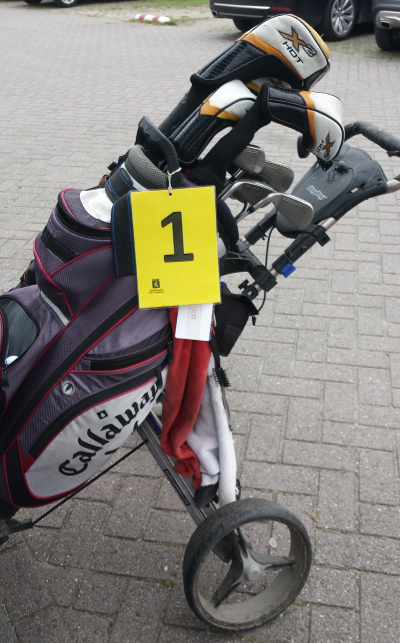 The number one sign hangs proudly from my golf bag.
As it turned out, although I made the turn with a so-so 39, the back nine went quite well and I birdied three of the last four holes. Boy was I hitting the ball really great. For awhile there, I was leader in the golf club but after the long wait I came in fourth place which is also nice.