I make my own sandwiches for lunch and like to slice my bread into nice uniform segments of equal thickness. Over time my cutting actions had acclimated well to the continuously dulling knife. It meant that gradually I had to cut imperceptibly just a little bit harder each day. I had become fond of that dull utensil and had developed a close relationship with that grip and sliding motion. There was balance between the forces of nature and my bodily movements.
So when I picked up the brand new knife that Thea had bought in some sale, I failed to register her comments. Or should I say warnings? She told me that it was a really great bargain for such a high quality knife which was as sharp as a razor blade. Then I watched the corrugated edge glisten in the light as I positioned it atop the bread ready to slice.
One slight push was more than enough, no need to press very hard nor initiate any cutting motion whatever. The super sharp knife went through that bread in an instant. The saying is like a hot knife through butter and that I the exact same sensation I felt. If it hadn't been for the top half of my forefinger blocking the way, it would have put a nice deep gash in the wooden cutting board.
I screamed although I felt nothing. In the same instant my hand shot up in the air. Blood started spurting out, and at first I thought that I had cut off my poor finger. The gouge was deep and clean, but my finger was still attached thank God. Thea came to the rescue and put her nursing skills to work by wrapping some gauze and bandages tightly around the wound. My life was saved and I would more likely survive.
The first thing that came to my mind was that I would never be able to play golf again. Not that I might bleed to death, but that having half of a finger would become an insurmountable obstacle for me at winning any future golf tournaments again. My days as a future famous golf pro were over.
One week later and it still hasn't healed completely, but things are improving nicely. In a couple more days I hope to be back on the golf course. I will use that little scar as a touch point from now on so that I can focus and play better golf.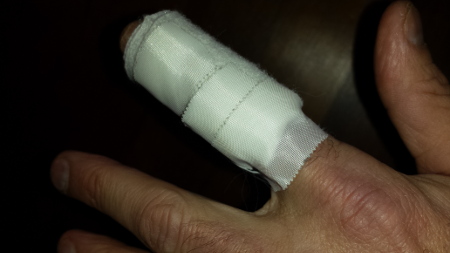 The funny thing is that around the time that I cut myself, a number of articles appeared in the local newspapers about people complaining that these knives were way too sharp for normal folks. One woman even threatens to sue the store for neglecting to give sufficient warnings about the danger.