I was putting really great the previous two weeks. However, when I saw Sergio Garcia on television shoot a 27 for nine holes with his fancy new Super Stroke grip, I had to get one too.
This was done on a stupid whim. I saw it in the drawer when the pro opened it. Why take the risk of changing when my putting had been amazingly good? I was regularly sinking ten meter plus putts and within four feet I never missed. I agree that twenty-two euros is a bit much for a piece of rubbery plastic, but what the heck. It looked good too.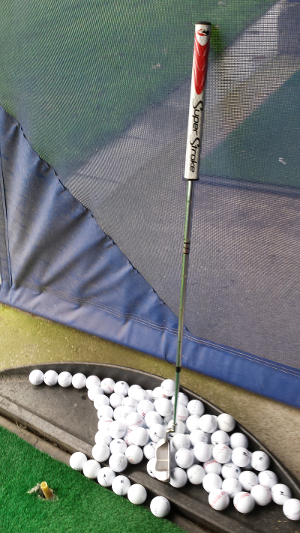 My new putting grip.
So it turns out that although I was all excited to try it out the next day, my putting was abominable. Not even close, I felt handicapped and I had lost all of my confidence. It was like I was yielding a baseball bat wearing thick woolen winter gloves, that's how much touch I had lost.
By nature I persevere and kept trying no matter what. If Sergio could do it then I could do it also. Day after day but no luck. My putting sucked.
Then I remembered something I had done when I was a young golfer. Back then I also had a ping putter, one of the originals. Once during a dry spell I was desperate for anything no matter how superstitious. I took some black tape and right at the center of gravity I wrapped a single turn of black tape around the shaft. Right where I could see it during every putt. It gave me focus and when I started sinking putts again I regained confidence.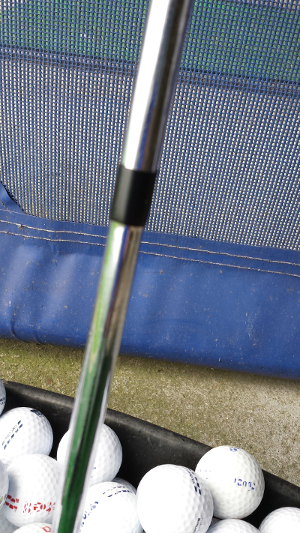 Black tape at the center of gravity.
That's what I did again. And believe it or not it works. My putting is back and I can strike the ball pure, sending it dead straight right into the hole. Not quite at the level I was before I put on the new grip, but I am getting there.