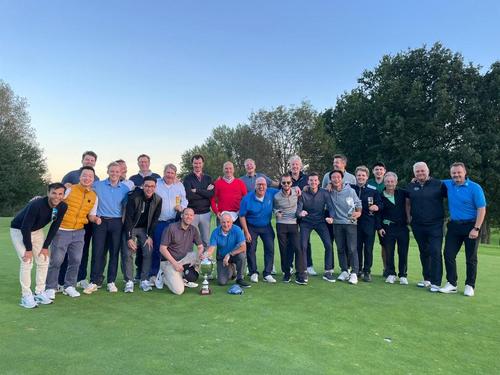 As tradition would have it, the end of the golfing season marks the yearly Jong Tegen Oud Matchplay Tournament. This is a long awaited for contest which pits the best of the youth against the finest seniors. The age divide being forty years old (kind of).
It is fine mix of young and old going at each other in the true spirit of golf. Having lost last years match, the team old had some serious grudges to deal with. Not really revenge, but close enough to it.
Consisting of two teams of fourteen each, we played greensomes in the morning followed by singles in the afternoon. Afterwards we had a good old "borrel" with prizes, capping off the festivities with a fun BBQ just joking around into the evening.
We were all very lucky this time around with the weather. For a few days before, it had been raining seriously (cats and dogs), and the golf course was even closed on the previous day.
Well come Sunday morning the sun came out, the sky presented a blanket of blue, and the slightly wet fairways dried out well by the afternoon. To make it fair, we allowed ourselves to bump the ball and clean it if needed. Gimme putts were up for grabs, gentlemen that we were.
This year was no different from previous contests. The young group of whipper snappers looked awesome striking their drives with intensity, right down the middle in what looked like a million miles down the fairway. Flexibility to its extreme and a swing speed beyond belief.
Team old remained undaunted (though a bit shaky). We know from years of experience that long drives alone are not enough. The thinking man has the advantage in the end. It is not about closing your eyes and whacking the ball as far as you can.
Besides, the older you get the better your short game (they say). That is exactly where we came out superior, sinking longish putts and recovering from behind the trees. Team young were tough as nails and put up a good fight. However, in the end team old pulled off a semi-convincing win.
So what if this time around team old was the winner? What really counts is the fun time we had together, sharing a mutual love for an amazing sport, feeling good by the synergy that bubbles forth when the young and the old get together.
In the end, we are all young at heart.