So you hit a pretty good long iron shot to the green but get an unlucky bounce. The ball rolls off the green, nestles itself just off of the fringe but ending deep in the high grass. The top of the ball is visible, but just barely. You have only ten yards or so to work with to the flag, and the greens are very fast today. What now?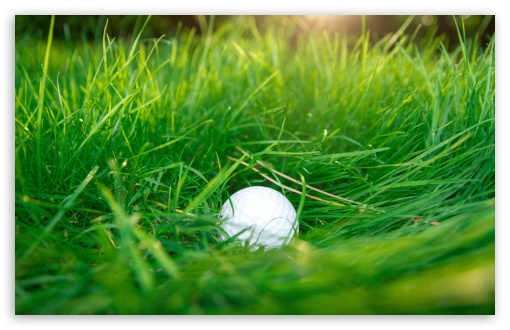 I've been plagued by this challenging situation many times. Still I haven't figured out how to play this shot without either fluffing it a couple inches, skulling it across the green, or clubbing it too fat and sending the poor ball to who knows where. The odds are that nine out of ten tries I will hit the ball badly and lose a valuable stroke or two. Training this shot hours on end down at the practice green doesn't seem to help.
I decided to do some research on the Internet and see what kind of advice other so-called professional golfers have to give. I was very surprised to learn that there is a very wide range of possibilities, from one extreme to the other, and not a single one offering the magical solution to this frustrating predicament.
Please feel free to choose one of the following, cross your fingers and hope to die:
Take your gap wedge, open up the club face as wide as possible and swing through the ball.
Hold a five iron perpendicular to the ground and hit the ball with the toe of the club like you are putting it.
Hit down on the ball with your wedge contacting the ball on the downward arc.
Swing through the ball with your sand wedge scooping the ball out like it's in the sand trap.
Tap the ball lightly with your rescue club so that the ball jumps out ever so slightly.
Take a fairway wood and pop the ball out by striking the upper half of the club face.
Hit down solidly on the ball with the putter and let the ball pop out.
So partner, which will it be? Choose one of the following weapons: gap wedge, sand wedge, low iron, high iron, wood, rescue, putter or something else. They all seem to work.
After searching for the answer, I now realize that it doesn't matter that much which advice you choose. Just take what first comes to mind and hope that your first hunch is the right one.