My old golf shoes have been falling apart for some time now. There's even a huge open gash on the side of the left shoe which was splitting wider each day.
If it rains my foot will get soaked completely, maybe even wrecking a great round with only a couple holes to go because of sopping wet socks and squeaking shoe, causing me to lose an important tournament.
Don't want that to happen now, do we? So it's high time that I hopped into my car, went to the local golf store and purchased some new shoes. These days you can easily fall victim to greediness and spend an arm and a leg on stupid golf shoes, but I was set on not spending too much money.
But there was a slight dilemma when I went to the store and looked around. I narrowed down the choice to two styles (both Footjoy of course), but I could not decide between them. You had the much less expensive, nicer looking pair but less comfortable. And you had the more expensive but super comfortable pair which fit me perfectly and made me feel like a pro.
Given the two possibilities, which one would you choose?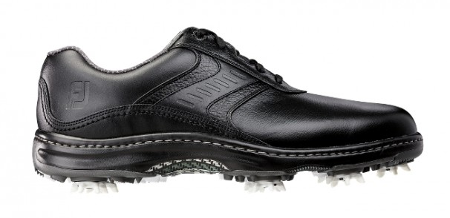 Footjoy Contour for €169

Footjoy Hydrolite for €125
Answer: Okay so I succumbed to extreme greediness and decided that I preferred feeling like a pro even if it meant forking out an additional forty four euros.