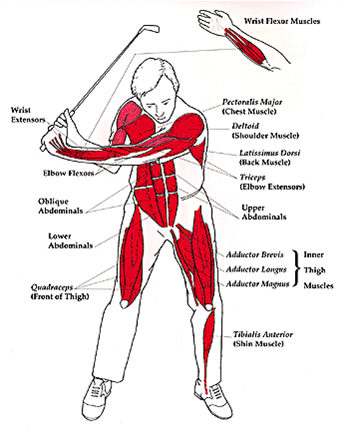 Although some people may not consider golf a "real" sport, it nonetheless requires that your body is in good condition and that certain muscles are well developed.
Since I started a more intensive workout program at the SportCity three months ago, I can really feel the difference.
My training focuses on the golf muscles as shown in the diagram above. Not that I need to develop giant muscles for extra distance, but rather well-toned upper legs, abdomen core, torso and arms to be able to hit the ball with a more stable and predictable swing, and above all with more confidence.
And yes, I can now also hit my drives straighter and about ten to twenty meters further. I am not sure whether or not this is all just psychological, but one thing is for sure and that's how good and healthy my body feels.