I had a terrible day of golf, which is strange because when I started I felt in top form and was excited that I would shoot a fantastic round. So what went wrong?
You might say that it started on the first three holes after a bogie, double-bogie and bogie, shooting up to four over par right at the beginning. However, I kept my cool and felt that there was a good chance to finish off the rest of the front nine even par after that or even making a couple birdies for a thirty-eight. After a string of four pars and two birdie putts that just lipped out, I ended with two bogies for a respectable forty-two.
Considering that this was an important tournament, the monthly medal, and we were playing from the back tees, I could deal with the forty-two and finish off the back nine with a stellar performance. That was not going to happen.
Double-bogie (missed two footer), par (missed three footer), bogie (missed two footer), double-bogie (splash in the water), double-bogie (out-of-bounds), bogie, bogie (missed three footer), par (missed three footer), bogie (hit right trees). That's a stellar round gone sour quickly with no hope in the world. A forty-five, giving me an eighty-seven for the day. What a terrible round of golf.
Looking back on the day, there were only a couple of really bad shots, the rest was bad luck with missed easy putts, a water ball on an easy par three and a messy out-of-bounds on an easy par four, when I should have whacked the ball right down the middle of the fairway with an easy chip shot to the green. In general I felt like I was making pretty good contact with the ball, especially my drives, although as usual I was pulling my iron shots a bit to the left (my grip was too strong, but I did not feel confident enough to make it stronger, feeling like I could shank the ball). I held my temper pretty well, and only slammed my five iron on the tee box once, which is pretty good for me.
At the end of the day I felt terrible, but at the same time I had an irresistible urge to give myself a second chance and go out for yet around of golf. Was I crazy? By being tortured and made to look like a fool, I wanted to go out and risk making a fool of myself again.
Golf is very strange that way, but that's what makes it such an addictive and wonderful sport.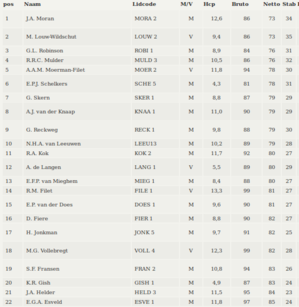 Way down the list at 20th place.