Playing golf on a foggy day makes the sport very challenging if not outright impossible. At least starting from the tee box you can estimate the hole direction fairly accurately. Just orient your stance perpendicular to the tee markers and fire away.
Once you get out on the fairway however, things get much more difficult. There's a hidden six sense of golf that tells you about where to hit the next shot, being it either an approach shot to the green or a longish fairway shot. The fog messes things up by creating a thick whitish curtain through which you must hit the ball, thereby introducing significant error.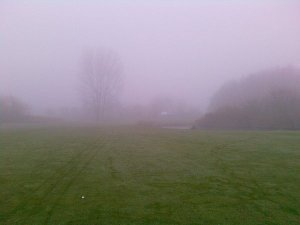 Can you see where the flag is?
Not only is the exact direction to the hole hard to figure out, but the distance as well. The fog creates this weird kind of optical illusion where it's very difficult to measure how far the shot should go. Perhaps the visual senses create havoc in your mind, a kind of panic situation, where your thinking gets much more muddled up than it should.
The best strategy is just not to think too much about the less than ideal situation and just stand up to the ball and give it your best. Also, you need to accept the fact that if you miss the target, it was not just caused by mishitting but by that irksome fog as well.
I guess you have to be pretty addicted to the sport of golf in order to want to play in such an annoying climate, but it's still great fun. That once in a lifetime shot that lands right next to the flag becomes even more miraculous.