For the last couple of weeks my putting has been truly atrocious. On average I have at least 5-6 three putts per round, and once a round I have a longish fifteen footer and the ball barely makes it half way to the hole.
So I dug around in the darkest corner of the garage where I keep my old golf stuff and found a classic mallet putter which I once used in my youth during a streak of amazingly good golf scores.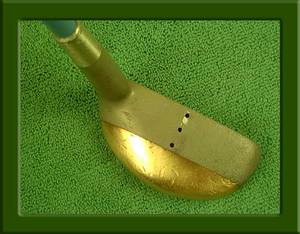 Golfcraft Brass Combo Frank Johnston El-Rio Model
I brushed off all of the cobwebs and cleaned it. Since the golf course was closed today due to very wet weather, I could only hit balls on the driving range and then putt around on the practice green. I brought this ancient putter with me and gave it a go. Who knows, maybe there's still some magic in it after all these years.
Here's what happened. I sunk the first two balls on the very first hole. I then proceeded to sink the next ball on the second hole, followed by a lip out and a third ball which lipped to the back of the hole and hovered half way over the hole but didn't drop in. The first loop around the practice green resulted in seven aces and not a single three putt. None of these putts were easy and most of them had a significant break in them.
Could this be just a fluke? Or is the classical design really much better than the more modern variations? To be honest, the club head is ugly and when you stroke the ball you feel amazed that you can even hit the ball solidly. But you can, and the ball rolls true. I even tried jabbing the ball, and even then it goes right in the hole as if a magnet is pulling it down under. I also tried whacking longish putts from one side of the practice putting green to the other, and the ball still rolled great.
I should start using it and blow away my opponents. They seem to think that they are more professional golfers and better putters with those fancy and very expensive brands of today. When in the end I could use my clunker ancient-looking putter and one putt half of the holes on the course. I wonder if I have the nerve to use it in the important tournament this weekend. I think I do.