Too often one is so consumed by a jungle of intertwined thoughts that the beauty of the nearby surroundings is completely foresaken.
Having tried to solve an especially complicated problem for the last couple of days already, I needed an escape. I decided to take an extended lunch break this time by walking further than normal along the canals of Amsterdam. It didn't matter where as long as I stopped tackling that ornery mountain of code for a bit, return to normalcy.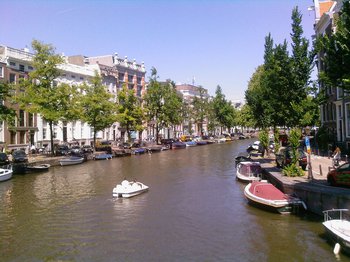 View of the Keizersgracht where I work.
The walk was alright I guess, getting away from it all. When I crossed the last bridge on my return to the office, I was at once struck by a wonderful, serene scene of peaceful movements. The gentle splashing of the tourists in the paddle boat is what woke me. Right there in front of me and I had missed it completely when walking earlier the other way. I took this picture so that I would not forget the awe of that special moment.
Mo more than five seconds after I snapped this picture using my mobile phone, the answer to the problem came to me in a flash. Better get back quickly before I forget.
That's the building where I work in the distance on the left right about the middle of the photograph.
Also for the sake of completeness notice on the right of the picture the girl bicycling ever so swiftly going to who knows where.