This time of year it is often a race against the clock getting in those last couple of holes before it gets too dark. But what can you do if the darkness is approaching too quickly, and on the ninth hole you are staring down a fairway that you can barely see?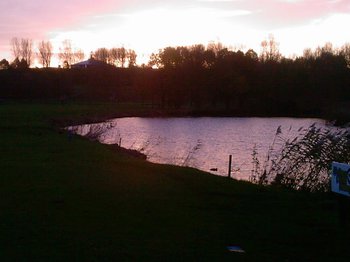 Tee shot from the ninth.
What I try and do is place the ball farther up in my stance, thereby hitting the ball higher so that it appears as a black spot against the sunset sky, arching up and then downwards. This partial segment of the trajectory can be used to extrapolate the rest of the downward arch, providing one with a rough estimate of the location of the landing path. A good ear comes in handy, the distant thump or the crashing of leaves and branches giving a more accurate indication of where best to look for the ball.
After a half decent drive down the right side of the fairway, I hit my approach shot in the general direction of the ninth hole. I hear the familiar sound of the golf ball hitting the surface of the green with a confident thud. Didn't see it fly off of my nine iron, didn't see it come down, but I can imagine perfectly well where the ball has stopped rolling. Time for a daring eagle-eye birdie putt just as the final rays of sunlight disappear altogether.
Watch the ball arch across the sunset sky of the tee shot, hear that suggestive thud of the approach shot, and then the long and winding putt dropping into the cup.