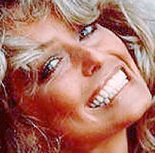 I cannot believe that she died today.
As a teenager I had the biggest crush on her and that poster of her in that skin-tight red swimming suit was an all time classic that's for sure.
Well, if it means anything to you now, thanks alot for all of the pleasure you brought me while I was growing up and trying to make sense of the world as a crazed young man in need of direction.