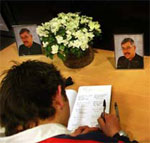 A couple days ago, some disgruntled Dutch teenager walked up to a teacher at a high school in Den Haag and shot him through the head. Killed dead just like that. The papers announce that:
'Murat teleurgesteld in Van Wieren', meaning 'Murat (the murderer) was disappointed in Van Wieren (the murdered teacher)'
While such an event is more common place in the United States, here in Holland this tragedy is rare and has hit the community very hard. Everyone is meandering around in complete shock, fearful that the previously stable society is beginning to crack and crumble. Holland is turning into a kind of America.
An interesting difference is this. In America people react with hatred and want to make the suspect fry on the electric chair. They seem to yearn for the spectacle and gain satisfaction from it. Even if he has not been proven guilty.
Here on the other hand, many people feel sorry for the kid and try to rationalize his behavior as a result of a failing society.
The school should have been better prepared, the teachers should have been trained to deal with aggression, etc. Groups of kids are walking around carrying banners with things like "He's not a murderer, he's my friend" written on them. There was even this television program last night where rather than feel bad about the poor teacher that was killed, they sat around sipping on hefty wine glasses and saying how guilty our society should be feeling for letting this happen.
He's just a kid, so I guess it is alright.
To make matter even more complicated, this school has a lot of students with a Turkish and Moroccan background. So that means that everyone is afraid to complain or get on the kid's case, because that would mean we were being prejudice to the Muslim community.
In the meantime, as discussions run rampantly here and there, and the people become fixated on rationalizing life's tragic experiences with logical argumentations, the poor murdered teacher's family sit around home distressed and feeling forgotten.