I was making my way to the gym today, when I suddenly heard a faint voice calling in my direction. "Mister, mister, can you please help me?" On the other side of a street stood an elderly lady bent over her walker. "Please help me, it is very important."
I crossed the street and approached her. She looked about eighty years old but could have been older. "I need to mail these letters, but I am out of breath I can't make it any further." She reached into her purse and pulled out two envelopes with handwritten addresses on them. "Would you be so kind as to mail them for me?"
It really touched me that she was trusting some total stranger. At the same time, I felt blessed to have become the chosen one who fate had decided to put there. It was a fortunate twist of the elements. I could have been any uninterested passerby who'd just end up throwing the letters into the ditch not wanting to be hassled.
So here is what I did. Although my destination was in the opposite direction, I made the detour to the nearest mailbox, and when the time came I lovingly pushed the two envelopes into the mailbox. Indeed, they would reach their destination in a day or two. Thanks to me, and no one would ever know it.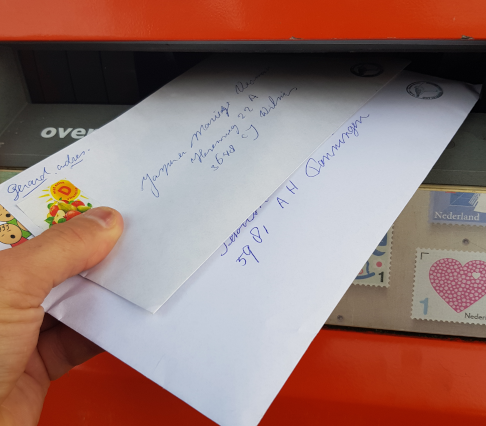 This is what I learned about life on this planet. We are a tight-knit society of randomly placed human beings, and we depend on one another to do the right things. In times of need, we should not be afraid to reach out to the random passerby for help. It is a complicated fabric of society which holds us together, and what makes it strong and durable is our trust and love of each other.