Hurrah, I've qualified to play in the 3e NGF Maandbeker this Sunday at the Golfclub Cromstrijen. My lousy handicap has been slowly increasing so it's high time that I shoot another low score in order to bring my current handicap (4.6) down a couple of notches where it belongs.
Startlijst - 3e NGF Maandbeker op Cromstrijen
Aantal deelnemers - 55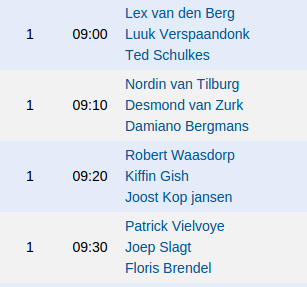 Complete list.
Sunday, July 19
As it turns out, I had a stellar round with three birdies and no double-bogies and finished with a 75 which was 10th place. Not bad against all those youthful whippersnappers who can hit the ball a mile. I was by far the oldest one there, at least twice as old as the average player, and one of the players in my flight was nineteen years old believe it or not. Still a golfer who is young at heart.
Uitslag voor Heren - 3e NGF Maandbeker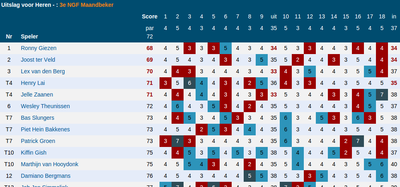 Complete results.