This is the manly tale of those four fine souls who in search of some form of immortality spent the day at The Dutch fighting it out for LAST PLACE. Who could have ever predicted what would happen?!
The two Future-Famous-Americans (Michael and Kiffin) took up arms and made battle with the Double-Dutchies (Onno and Patrick). Nothing could have been more exciting. On the first tee, these golfing warriors were primed up to plug it out to the very end. To be remembered in the annals of golfing history, next to Ben Hogan and the rest.
After the first two holes it was all square just buddies with buddies, but after that all hell broke loose. Highlighted by an amazing birdie putt by Mike on the sixth hole, the streak of excellence put the American heroes at no less than six up after eight holes, and then five up at the turn. No problem though, just coasting along.
That's when Patrick started using those mental/abusive vocal tactics that have made him a notorious player in the past. He opened his mouth (again) and started rambling endlessly, on and on about the Zwarte Piet controversy which occupies Dutch newspapers and radio shows, how it's a fine tradition ad infinitum.
It has absolutely nothing to do with golf, I know. But seeing how emotional and irritated Kiffin had become (strongly against Zwarte Piet which is a colonial hangover that needs to be abolished immediately just like the royal family), Patrick kept saying it's okay to be racial by dressing blacked-faced idiots in crazy slave outfits, it's all in good taste for the kids so that's alright.
During important shots or difficult putts that Kiffin was put under pressure to make, Patrick blabbed out something like: it's just a children's game, they get black from chimney ash, it has nothing to do with slavery, in America they shoot blacks on the street, etc. Yes, his strategy was starting to work on the opponents who were unraveling. This Patrick guy is sneaky but clever!
By the fifteenth hole the Double-Dutchies had slowly but surely made an amazing comeback. They were all square with the (now) El-Sucko Americans. All dormie with only three holes to go, what were the chances? I mean really?! Hope Patrick doesn't mention Zwarte Piet again, he seems to have forgotten. The Dutchies win on sixteen and then they do the same on seventeen, getting pretty exciting. Dormie with only one more hole to go.
Last hole for the symbolic last stretch. Everyone pulls the ball left except for Kiffin who as "always" splits the fairway in half with an amazing drive heard round the world, 250 meters give or take. Michael then also knocks a sweet hybrid down the middle. Onno and Patrick hack and fumble their way forward from rough to sandtrap to rough again. Things do not look good for them at all. Like taking candy from a baby.
Ho hum, history is quite unpredictable in more ways than one. Forget about the annals of golfing history. Camera zooms in and the public is silent. Kiffin hits a five iron into the water, then Michael fluffs an easy wedge into the water again. Two measly looking splashes and they are on the green in seven. Patrick and Onno are on the green in five end up winning the hole with a double-bogie which is no match for the quadruple bogie.
All in all we are happy to announce that there is no absolute loser anymore, there never was and there never will be. We pulled off the impossible and are tied at 1-1. We proudly cherish our single point which no one can take away from us anymore!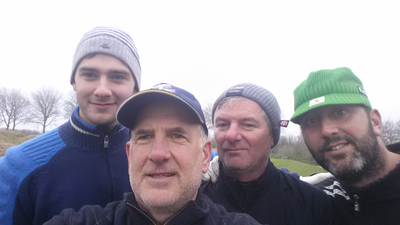 From left to right: Onno, Kiffin, Michael and Patrick.