I was rushing to be on time for my tee off slot at 13:58 when I got a telephone call from the caddy master. He told me that I was late for my flight which was ready to tee off at 13:18. What?! That's in just six minutes. They had shifted the times around because of various cancellations and my time had been rescheduled. I rushed inside and changed clothes as fast as I could. Completely out of breath, I ran to the tee box. Don't worry, we put you on the later flight at 13:36, so you have time to catch your breath and settle down. Not enough time to hit any balls just a few quick putts to get a rough feel of the greens, that was it. I was going to play and that was all that mattered to me.
What seemed to be a hectic start turned out to be a fantastic round of golf. Golf is so unpredictable that way. You arrive early and hit a couple buckets of balls perfectly, but once on the course it's a different story. Other times I hit balls and half of them are shanks, but the score at the end of the day is much better than expected. This time around I was in the zone, fresh from work with no chance to stretch or prepare myself mentally. I hit almost every ball down the middle of the fairway, my irons stuck close to the flag or just off the green for an easy chip and one putt, I felt very confident. Great stuff. Too bad I had a double-bogie five on that easy par three. Can't have everything.
Turns out that I not only made the cut and qualified for the weekend tournament, but amazingly I had the lowest score of all and placed first for the morning round, five strokes ahead of the nearest competitor. A good feeling. Now I am that new unknown American guy who torched their course, getting to be the talk of the town. This means some extra pressure to perform in public and amaze my fans by playing another stellar round.
Thanks to this lucky day my handicap plummeted to a 4.2 which is the lowest handicap I've ever had since my teenager years.
If things don't go according to plan and I choke or have a bad day or just miss out on the following cut, who cares. It was fun while it lasted and a great feeling I will remember with fondness. We'll see what happens, fingers crossed.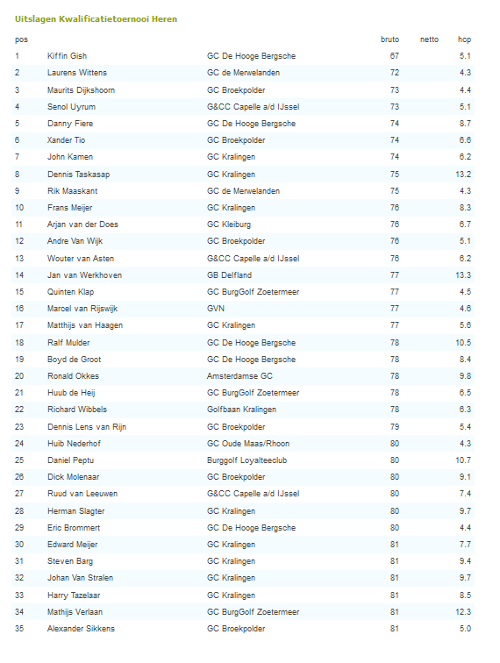 Unfortunately, although I kept qualifying for the next round, my scores became steadily worse. I survived all the way to the final round on Sunday afternoon and came in at a respectable nineteenth place. I felt gung-ho this morning and got up extra early to hit balls on the driving range and focus on my putting, but so much golf in the last week (five rounds total) took its toll in the end. I'm not as young as I used to be, and the first part of my game that started to get worse was my general control of the ball and estimating distances to the green. Bad drives, lots of sand traps, lousy putts and a couple fluffed chips.
Final scores were: 74+76+80=230. All in all I feel honored to have been able to complete this fine tournament, better luck next year.