I was born and raised in sunny California where at an early age I was blessed with the opportunity and the ability to hone my golfing skills.
So it is not hard to understand that the approaching winter and inherent lower temperature is something I find very difficult to appreciate let alone accept.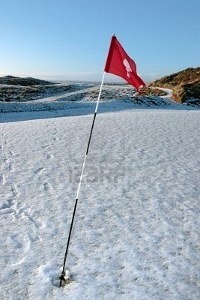 The air is colder and the ball becomes hard and untrustworthy. The normally massive drives will stutter and fail in midair, diving downwards prematurely and hitting the fairway tenfold meters shorter than usual.
The swing of the club is frigid and cramped, the muscles in your arms and legs stretching uncomfortably at best. You reminisce about that snap-of-the-whip crack of the club striking the ball but feel an awful muffled thud instead.
I guess the part I dislike the most is that my hands are frozen and stiff, despite the fancy new winter gloves I bought. Just grab onto the club and hold on tightly, hoping for the best.
The good thing though is that mother nature hardens you and helps you mature into the better golfer you were always meant to be. Challenged by the difficult winter conditions, like cold gusts of wind and icy-hard fairways, you are hardened into a truly hero-like golfer.
Good-bye nice golfing season, see you next year. In the meantime, I will try and remain an avid golfer by bearing with mother nature and its inclement conditions.
Later on I will really appreciate the nice warm weather again.