Being able to putt well has nothing to do with the type of putter you are using nor the way you stroke the ball nor how you choose to grip the club nor even whether or not the pendulum movement sways in rhythm to this or that.
The thing that matters is that you are confident that the ball will be stroked correctly according to your mental capabilities, that you visualize the path of the ball and hear beforehand the ball dropping into the cup and making that familiar sound which with evil prediction you hear beforehand in your mind.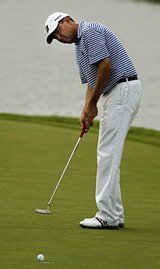 Davis Love,
one of the best putters ever.
Whether you are putting for a birdie, trying to make par or desperately hoping to hook in a very long putt for a saved bogie, it doesn't really matter. It could be an easy tap in or an impossibly long putt from one side of the green to the other. The ball is here and the hole is over there, to make ends meet, connecting this point to that.
Before you make the putt you know for sure that it will drop. You are standing there and gazing down the slope, the path that the ball will take is not some pre-calculated mathematical parabola, but an inner gut-feeling that the ball will first go this way and then that way, but at the last moment home in to where it counts. Maybe it is even so simple as a very straight putt, but in your mind really a thousand times more difficult than that.
Ram the ball into the hole, slide the ball in at maximum curvature, or hit the ball straight in, whatever that may mean. Just be a man, stand up to the ball and hit it where it is supposed to be you idiot.
I remember playing an important match coming in as the last group, and it was up to me to make a simple two foot putt for the big win, and very sorry to say that I missed it. There were many moans and groans from all of my team members, and the coach also looked at me and shook his head. For the next week I felt like jumping off of a bridge. But I didn't.
Other times during less dramatic but no less important matches, and without thinking or even caring, I've made the most amazing putts for birdie and have felt really great winning at the last moment.
It doesn't really matter, whatever happens just happens and that's just the way things are, or were always meant to be.