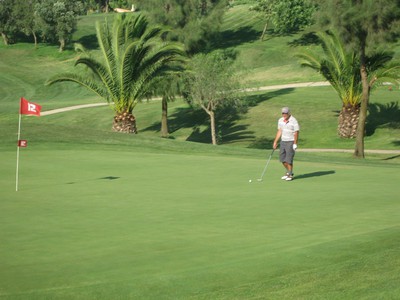 My birdie putt on hole 12 just lipped out.
With much pleasure, I played the Gramacho course in Algarve, Portugal three times with half-decent scores of 81, 82 and 84 in the afternoon tropical heat. You would have thought that playing the course more often would have made it easier, but for me it was exactly the opposite.
The greens are often sloped at sharp angles, super fast, with the flag tucked tightly right behind a foreboding bunker, so prepare yourself for difficult chips and many more three-putts than you are used to.
The higher temperature makes the ball fly further, but there's always some unexpected danger around every corner. Bring a couple liters of water with you and rent a golf buggy.
This course offers a challenging variety of holes which do not play too long. However, the smallish greens are treacherous surrounded by huge, deep sand traps which often extend back a hundred yards into the fairway, waiting to engulf even the slightest misjudged shot, of which I found too many.