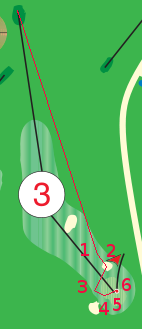 Take for instance the third hole which is a short dogleg left par four downhill and a measly 275 meters long. This hole is enticingly short but very unpredictable if you happen to miss the middle of the fairway by more than ten meters.
With wind at my back I grabbed a four iron and hit a most perfect shot high into the air. The ball came down with a slight draw, barely clearing the left-hand fairway bunker, and took a mighty downhill bounce, rolling to within three meters of the green.
The flag was at the front, so this would mean an easy birdie. All I had to do was make a short chip over the bunker in front of the green letting the ball roll up to the hole. I was feeling pretty cocky (my biggest mistake).
This is what I did. Chipped fat into the sand trap. Shanked the ball out of the trap over the green to the right. Flubbed another chip barely onto the green. The putt made it barely halfway to the hole. Amazingly I made the longish put to save a grand six. Could not believe it but kept my cool.
Summary of this most painful hole: the first shot went to within fifteen feet of the flag, and then it took me five more shots to finish off in the hole.
One shot of 270 meters, and then the remaining 5 meters took me five shots, making it a lousy and very embarrassing double-bogey.
Yes, anything can happen in this game called golf, and that's why it remains for me a fantastic and challenging sport. So much of it is mental, no matter how fantastic you hit the ball.