Decided to splurge and went out to the nearby computer store and bought myself an MSI U100 Wind Notebook. Had to fork out 399 big ones but it was worth it. The first thing I did was throw the stupid default Windows XP overboard and replace it with good old Xubuntu. Since the notebook does not have a CD drive, I had to figure out an alternative way to get that Xubuntu installed. Then I tried to create a bootable USB stick using my other laptop by choosing System > Administration > Create a USB startup disk, but the stupid program kept hanging for some reason. On the Internet I discovered an even easier way which is called the Wubi Ubuntu Installer. All you got to do is go to
http://www.wubi-installer.
org
and click on the download button. Please wait while the required files are retrieved and prepared, now only 378.4 MB (54%) of 698.8 MB @ 74 KiB/s (1:13:34 remaining) so this could take awhile. Why it is so slow I do not know, but I will just have to be patient. Will keep you updated later on.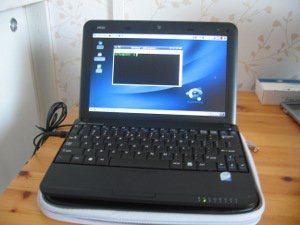 Give or take one hour later the file download completed. The installation went without a hitch. However, it created a dual boot system and installed Ubuntu by default (didn't even ask me if I wanted Xubuntu instead). Still gotta figure out how to remove Windows and replace Ubuntu with the lighter Xubuntu instead.
Here's someone else who claims they got it fixed:
http://k.dieplz.net/evolut
ion/2008/11/22/wlan-in-ubu
ntu-8-10-on-new-msi-wind-u
100/
Finally got my wireless connection to work properly. To see how I did it check out the following link:
http://k.dieplz.net/evolut
ion/2008/11/22/wlan-in-ubu
ntu-8-10-on-new-msi-wind-u
100/
In a nutshell this is what you have to do:
Go to the download page for rt2860-source_1.8.0.0-3_all.deb and download the correct version from one of the listed mirrors
Make sure that you have the debhelper and module-assistant utilities installed by running 'sudo aptitude install debhelper module-assistant'
Build a binary package of the driver by running 'sudo m-a a-i rt2860' and module-assistant will do the rest for you.
Run 'sudo modprobe rt2860sta'and you should be able to connect to a network with Network Manager. If not then you'll have to reboot.
Finally run 'sudo gedit /etc/modules' and on the bottom you append a new line with 'rt2860sta' so that the driver will be loaded automatically whenever the machine is booted.