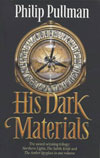 This masterpiece collection should prove to be an excellent read.
The other day while sitting in the car and listening to the BBC Radio, I just happened to hear an interesting interview with some author named Philip Pullman.
I became so interested in his philosophical ideas and beliefs that I had to order the book immediately. Can you believe that before that I had never heard of this person?
The massive volume arrived yesterday from good old Amazon.co.uk, and I have already lost myself in its many many pages.
Still young inside.