I am working on a winning concept for my company. It is called the "three-pronged" approach, and I firmly believe that this idea has much potential for creating business in the short term.
The "three-pronged" approach is based on the following question:
"What prevents e-business from getting maximum benefit from their data?"
The way of answering this question involves the following three components:
Knowledge (lack of qualified personnel)


Customer behavior (too much data)


Technology (lack of technical resources)
Items one and two are covered by "professional services" and items two and three are covered by "advanced web products."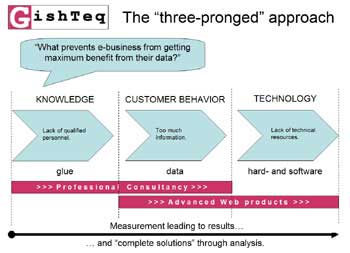 The Three-pronged Approach.
The whole system is supported by a framework upon which measurement leads to results and so-called "complete solutions" are defined and implemented through the proper analysis of these measured results.