So why spend tons of extra money on a fancy new Linux computer when with a little extra research and energy you can build your own machine for half the price?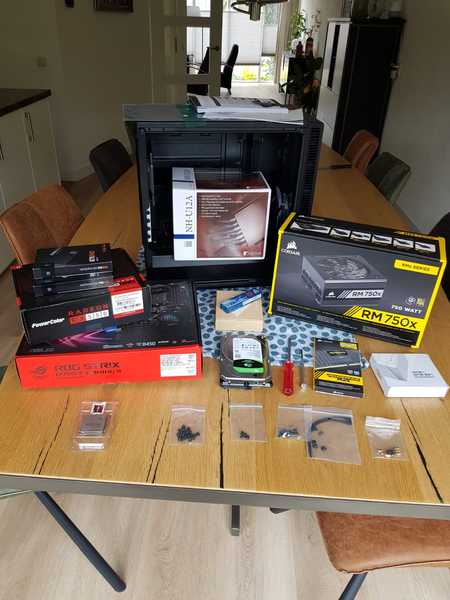 For awhile I was looking for a new laptop, but considering the computational intensive configuration I required, and the fact that I also wanted a machine that could handle most modern games, I was looking at minimally three thousand euros.
I found a great video link AMD Linux PC Build for computation intensive tasks, and I studied this article How to build a PC: A step-by-step guide which led me to purchase the following components:
CPU: AMD Ryzen 9 3900XT Processor (without cooler)
GPU: PowerColor Radeon RX580 Red Dragon V2 8GB
RAM: Corsair 32GB (2x16GB) DDR4 3200MHz
Motherboard: Asus ROG Strix B450-F Gaming II
Cooler: Noctua NH-U12A BF19
ARCTIC MX-2 (4 Grams) - Thermal Compound Paste
SSD: Corsair MP510 NVMe M.2 960GB
SSD: Samsung 860 Evo 1000GB 2.5"
HDD: Seagate Barracuda 4TB 5400RPM SATA 3.5"
Power: Corsair RM750X V2 750W or Corsair RM650X V2 650W
Case: Fractal Design Define Mini C Solid Side Panel Black
Inateck SSD Mounting Bracket, 2.5 to 3.5 Hard Drive Adapter
Inateck SATA Data Cable and SATA Power Splitter Cable
Total cost: € 1625.84
Most of the items I bought through Amazon.nl, but a couple items that were either cheaper or had a faster delivery time, I purchased instead through a local distributor called Max-ICT. Within five days of ordering, I had received everything at home.
I am a little daunted with the number of components, all of the cables and how exactly to put things together without blowing everything up. That's why I invited Lennart over this evening to help me out and make sure I do not do anything stupid.
Yet another fun father son activity.