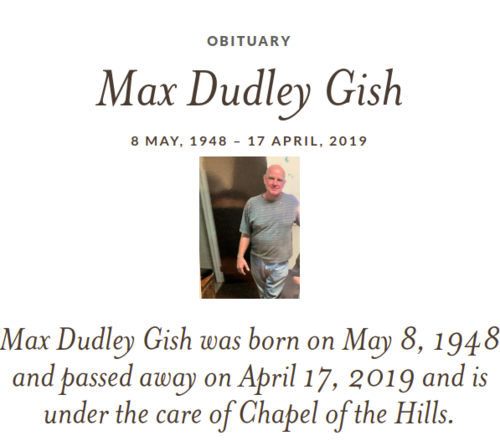 I just happened to find this obituary randomly one day when I felt reminiscent and searched the Internet for clues from the past. This is one of my half-brothers from my father's first marriage. As a child, I met him only a few times and those memories of our brief meetings are vague. Later when I was around twenty years old, I drove up with my father to visit him in Menlo Park. He worked in a local gas station and his passionate hobby was fishing. All his fishing gear was leaning up against the wall of his one-room apartment, and he slept on a simple mattress on the floor. One thing that struck me was the portrait of his mother lying on the floor next to his bed, whose maiden name was Maureen Carpenter. It was one of those black and white pictures with her posing in a manner typical of the early forties. My young father was off to war and she stared bravely into the distance. That was the very first (and last) time I had seen what my father's first wife looked like. Just a quick glance really, nothing more. She was very pretty and looked like a nice person, despite many negative things I had heard about her while growing up. With Max, there wasn't really that much to talk about besides fishing and other simple chit-chat, but that was okay because in some mysterious way I felt happy being with him while I could. Bonding with the past and wondering how things could have been, how things had turned out. In a small way he had played a minor role in my life, so I felt a bit saddened when I found out that he had passed away two years ago and I hadn't even known it. That last afternoon I spent at his one-room apartment was meaningful in a spiritual way, and when we parted little did I realize that that would be the very last time I would ever seen him again. Bye Max, may you rest in peace and God bless you.
Oh yeah, one thing I should mention that is pretty important in context of this story is the following. Max was named in honor of my father's little brother who as a child accidentally shot and killed himself in the chest with a gun he had found lying around and probably thought was a toy. My father was fourteen at the time. According to the Kansas Lawrence Daily Journal World dated May 30, 1932, title Wound Kills Boy:
"Max Gish, 10-year-old son of Mr. and Mrs. Albert Gish, formerly of this city, was found dead in the bathroom of his home at Junction City yesterday with a small calibre pistol at his side. Members of the family believed Max was playing with the weapon when it was accidentally discharged. The only other person in the house at the time was the boy's aged grandfather, who said he did not hear the shot. Max was the youngest child of Mr. and Mrs. Gish. Mr. Gish operated the Stadium barber shop, 1033 Massachusetts street, for about eleven years."
You see, my father's father (the grandfather I had never met because he die when he was fifty) who was a barber by profession, had fought in the Great War. He was a Second Lieutenant in the U.S. 1114th cavalry. At the time I can imagine there being weapons lying around in unsafe places that a curious child might find climbing a high cupboard or some secret drawer.
A few years after that my father lost his older brother to cancer. Those awful events combined with the atrocities that he witness as a soldier in the second world war were plenty of hurtful memories which I believe (almost) broke him.