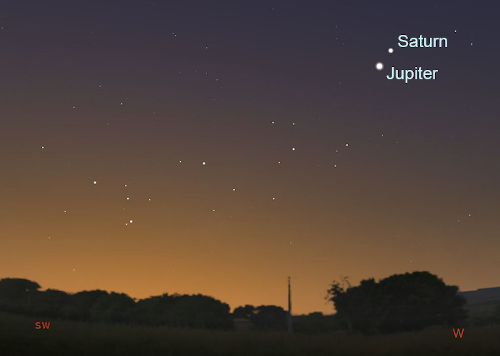 Jupiter and Saturn are almost kissing.
They use the term great conjunction to describe meetings of Jupiter and Saturn, which are the two biggest worlds in our solar system. Though the two planets will appear spectacularly close together on the sky's dome now, Jupiter and Saturn are actually 456 million miles apart.
That's no less than 734 million kilometers which is pretty far. How far is that really? Let's say that you get in your car and drive at an average speed of 120 kilometers an hour non stop.
Better bring alot of food and some extra clothing just in case, because your trip will last a long time, namely 254861 days or nearly 700 years. Hopefully we can find enough gas stations along the way.
In Holst's masterpiece orchestral suite The Planets, one movement is dedicated to Jupiter the "bringer of jollity" and another movement to Saturn the "bringer of old age."
That's from Roman mythology. In Greek mythology Jupiter is called Zeus, the god of the sky, lightning and thunder, and ruler of all the gods on Mount Olympus. Saturn on the other hand comes from the Titan Cronus, who was known as the god of time.
If I had to choose which god I would like to be I think that I would choose Chronus over Zeus any day.