This morning I had my appointment at Medinova Clinic which specializes in knee injuries in addition to a whole plethora of other sport-related problems.
They took several x-rays of my left knee: front, back, lying down, standing up, bent slightly. I wasn't that nervous until the female assistant asked me if I had been operated on before. Fortunately Marlies was there at my side and gave me comfort afterwards while we sat in the waiting room.
After nearly an hour, the orthopedic surgeon asked me into his office. He seemed like a nice guy and wanted to speak English to me (he thought I came from the UK). Turns out that there's 0.0% trace (nul comma nul) of any wear and tear. He showed me the x-rays and my bones looked perfectly sharp and smoothly formed, as if they had been created by a loving and perfect God only minutes before. What a relief.
He felt around my knee and made me move it around in various directions. Does this hurt? And this? How about if I do this? He was very quick and figured it out in no time. I think he had a very strong suspicion but was careful to give me the facts before there was proof.
Next step is to get an MRI scan done since the x-rays had not shown anything visible. It is more than likely an issue with the outside of my meniscus, some slight injury there which refuses to recover fully.
So what's the prognosis? The doctor couldn't say and needed more data from the scan. Probably arthroscopic surgery to repair the meniscus if possible. Something loose, a minute tear, who knows what.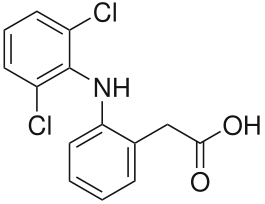 This is what Diclofenac looks like
For the time being, my daily dosage of Diclofenac will keep me going. It's a miracle drug which nearly kills off all pain completely.
Next week the MRI scan and the week after that the doctor's conclusion. Fortunately it's winter and freezing cold, so if I need to take a break from golf for a couple weeks it won't be such a sacrifice.