I choose to commute to Frankfurt using the ICE high-speed train because of it's comfort and speed, so paying that little bit extra is worth it.
Lately though, I've been plagued by various inconveniences like bad weather, technical problems, evening constructions, and most recently an accident right before Arnhem which blocked all trains for a couple hours.
The worse part is not so much the delays as it is having to transfer trains, from one side of the platform to the other or walking up and down stairs lugging my heavy baggage to the other platform way down to the other side of the station.
Most of the travelers are just like me, carrying tons of luggage and extra bags of goodies and such. You have to lift off your heavy bag from above, squeeze down the isles and hop off of the train in search of the transfer point.
Once there, you have to squeeze back in, a complex traffic jam inside as folks meet and have to pass one another along a thin isle not made for two-way traffic.
The first week I felt exhilarated by the comfort and speed of the ICE train, thinking wow this is great, but not anymore.
I have a simple choice. Expect and accept delays as they arise, grab a book and relax. Or get all upset and tense, making things even worse because of a lousy attitude.
Now whenever I have to pass all of the grumpy fellow travelers, I just smile and hop temporarily on a vacant seat, until the masses have continued there ways and I can search out my reserved seat next to the window.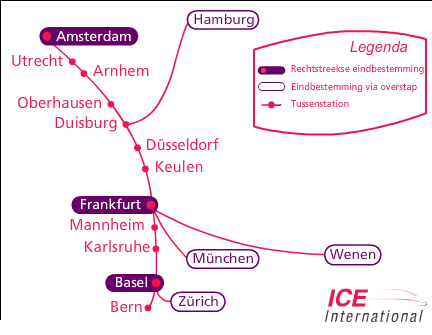 On this line, I travel from Utrecht to Frankfurt.
If all goes well, my travel itinerary looks something like this:
Home to Gouda Train Station - 10 minutes.
Gouda to Utrecht by train - 20 minutes.
Wait in Utrecht - 15 minutes.
Utrecht to Frankfurt by train - 3 hours 55 minutes.
Wait in Frankfurt - 10 minutes.
S-Bahn from Frankfurt to Eschborn Sud - 12 minutes.
Walk to my apartment - 20 minutes.
Total time from door to door: 5 hours and 37 minutes. Fortunately, my apartment is only a ten minute walk to work, which makes up for all of that traveling.