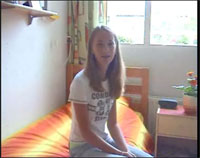 In this up-close-and-personal video, Marlies introduces herself by welcoming the viewer to her own personal web page and then panning her room to give one a better idea of who she is and where she lives.
We did it after only several retakes, the most difficult aspects being the (back-)lighting which was either too dark or too light, and speaking her lines of text without (too many) errors.
The end result is pretty good I believe, not bad after an hour's struggle and the fact that Marlies is by nature a perfectionist.
Check out the video called Marlies in her room for yourself.