I had just crossed the bridge next to the hockey field, turning left on my last leg of the journey back home. That's when a white hockey ball flew right past my head missing it by only a couple of inches.
On the other side of the wire fence about ten yards away stood a husky twelve year old girl leaning nonchalantly on her hockey stick. She had severely misjudged the height of the goal and had launched the hockey ball over the net, over the fence, through the highest tree branches, and at an obtuse angle onto the asphalt path leading back to the bridge.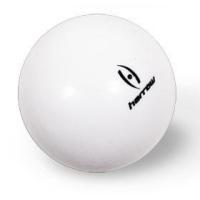 The hockey ball is a good bit larger than a baseball, weighs about 5.5 ounces and has a diameter of nearly 3 inches. It is harder than hard. At that velocity, it easily qualifies as a deadly projectile. It slammed into the wooden bridge with a loud thud, ricocheted off of the metal railing, took another bounce in the opposite direction and then splashed into the water. Forever lost to the depths of non-existence.
The young girl seemed completely oblivious to the fact that she had nearly killed an innocent bystander. Then she broke her posed stance and continued running around as if nothing had happened. I can imagine that she felt pretty embarrassed about making such a bad shot and didn't want any of her fellow team players to notice her gaff. Indeed, peer pressure can be pretty bad these days, especially at that tender age, when even near death episodes are irrelevant.
How ironic it is nowadays when everyone is so completely preoccupied by the dangers of catching and dying from the corona virus. Little do they realize that an other completely random event could just as swiftly end your life right here and now.
If I had been walking a fraction faster or had tilted my head a bit more to the left, I would not have made it back home in time to write this interesting and philosophical blog entry. Thanks God for saving my life.