Whatever you do be sure not to take the very last slice of cake. Even if it has been lying around on the plate the whole day.
The Dutch are very traditional in many ways, and being very polite when partaking in another person's birthday cake is one of them. Just like during lunch or dinner you are expected to have good manners, not talk with your mouth full, eating slowly and partaking in relaxed conversation, and not gulping down your food greedily. The cake is offered to you as a gesture of kindness, and you are expected to display a keen sense of thankfulness. You wait until offered and that's just the way it is.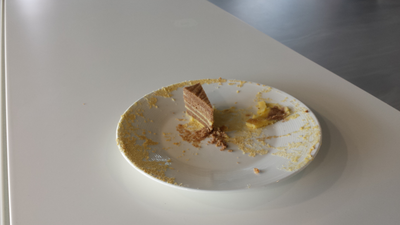 The last slice is sliced thinner and thinner.
One of the unwritten laws is never ever take the last piece of cake. This rule also applies to cookies or biscuits during coffee or cheese or a bowl of nuts or whatever. The last bonbon must remain like some artistic decoration. So at work it was a colleague's birthday and he treated everyone to cake. One slice after another was made to appease the eager cake lovers who stood ever so calmly in line, until there was just one slice left.
So what do you do if you really would like some cake but do not want to be cast from society for having grabbed the last piece? Well you take a very sharp knife and carefully slice this piece in two and take the half. Depending on the number of people and the size of the original cake, the last remaining piece of cake can be bisected several times until there is a paper thin slice left on the plate, mostly balancing ever so precariously on its side.
Since I am a boring and impolite American without proper manners, I waited until most people had gone home and the room was nearly empty, checking that no one was looking when I grabbed the thin slice and gobbled it down. It was so thin that it melted in my mouth, but it still tasted great.