Being stuck in the middle of a huge traffic jam just south of Amsterdam is no fun, especially when you know that it will take at least another hour before you got back home.
To make things worse, it was pouring down rain, dark and gloomy, and the wind was blowing so hard that my car was bouncing back and forth slightly, like it was drifting on some stormy seas, dancing across the water.
Listening to Neil Young, turning up the volume real hard, hearing him singing the lyrics emotionally out loud, made me feel better.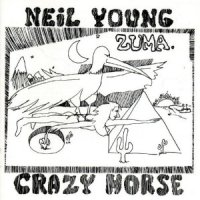 Before I realized it I was already back home. How did that happen? The album just finished the moment my car entered the driveway and came to a gently stop.
That was when I realized that every single song on the Zuma album is amazing and that perhaps that album is the best collection of songs Neil has ever created.
I'm going to listen to it again this evening, I thought, and write about it. So here I am right now.
He came dancing across the water with his galleons and guns looking for the new world in that palace in the sun...