The oriental guy sitting across from me was neatly dressed in his suit and tie, and he had opened up about the largest Gannt Chart I had ever seen.
Right there during rush hour in the middle of the cramped train was this poor soul with a panicked look on his face, unfolding and refolding the large chart this way and that, trying to make sense of the chaos with squinting eyes through thick lenses.
At the same time, he had a ruled notepad precariously balanced on his left knee, scribbling it with various arrows and boxes, despite the bumpy ride and the squeezed bodies around him, which resulted in jagged lines and oval, squiggly boxes.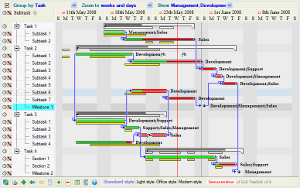 On his other knee he had his laptop and a stapled file of technical specifications, which he had to refer to continuously in order to make sure that his Gannt Chart and the scribbles on the notepad and the complex thoughts inside of his head all made sense and matched up perfectly.
No cracks or other inconsistencies to be found, he hoped. His boss was known to be an abrasive character, and he would be demanding one hundred percent accuracy, bombarding him with a long list of difficult and prying questions.
This was definitely not the most conducive surroundings to make last-minute preparations for such an important meeting, indeed one prone to error and mismatches which could put the million dollar project at serious risk.
When the guy packed up and left the train, I wished him luck and thought positively for him. However, he could only afford me a nervous half smile as he disappeared off into the distance on his way to the his own personal fork in the road.