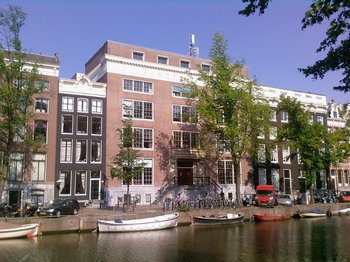 The fine folks at Interapy including me have moved to a new office building in the heart of Amsterdam.
The location is ideal and the new premises is a big improvement over the previous situation. Also Keizersgracht is special not only because it is right next to one of the nicest canals in Amsterdam but it also has the name for special people and companies.
My department room is twice as big and this is the most important step to professionalizing the development program.
I'm not as lucky with the traveling time as I have to travel two more train stops (add seven minutes) in addition to the four extra tram stops and the five minute walk.
It's kind of funny how since I started living over here, that Amsterdam keeps tugging at me to come back and either live and/or work there, like a magnet.
Here's a short list of examples of times I've worked and/or played in Amsterdam:
Slotervaart Ziekenhuis when I first met Thea
American Discount Bookstore - Kalverstraat
Singel Canal - our 1st appartment
Achter de Kolenkit - our 2nd appartment
Uniface - Amsterdam Zuid-Oost
Demon ISP - Herengracht
TomTom - Oosterdoksstraat
Telfort - Amsterdam Zuid-Oost
Interapy - De Roeterstraat and Keizersgracht
This just can't be a simple coincidence. Maybe in my previous life I was some worldly merchantman during the Dutch Golden Age conducting my affairs in worldwide trade, residing in some fancy city dwelling in Amsterdam, married to a beautiful Dutch women with ten or more kids running around next to the canals.