There's been a terrible crash today at the Schiphol Airport with a bunch of people killed and even more badly injured.
When I saw the pictures on television, including the closeups of the dead bodies lying next to the fuselage covered in white blankets, it made my stomach sink and I had this sick feeling most of the day.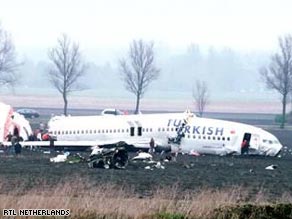 How often have I sat in airplanes descending lower and lower along the very same path without thinking one second about it that something might happen?!
The pilots were killed on impact and so gave their lives to save as many passengers as possible by avoiding a neighborhood and finding a soft field to land in.
The idiot Turkish minister of information first said that no one survived and half an hour later said that everyone survived, and the truth is that at least nine people were killed. What a nightmare for the family and friends.
I feel relieved for the survivors and my heart goes out to the families of those who were less fortunate.