Figuring that I would return home one day later this week on Saturday, I could have a day extra to check out the area and prepare myself better for the family visit next week Thursday. My plane didn't leave until the evening, so the plan was to check out from the hotel early in the morning, dump my luggage at the airport, rent a car and look around, returning at the end of the day in time for my evening flight.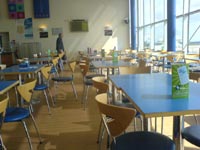 I arrived at the check-in counter around ten in the morning, only to discover that my well planned itinerary had one vital flaw in it.
Sorry, the nice lady told me, but once you check in your luggage you are not allowed to leave the airport premises. Why? Because of security reasons, she said. Oh, well I'll just rent one of those lockers and put my luggage in there for the day. Sorry, but we do not have any lockers here. Why not? She answered, because of security reasons (again). Bummer, I mumbled in a low barely audible voice but smiled at her. Not that the woman was good-looking or anything, just wanted to surprise her is all. Well, I can just rent a car for the rest of the day, carry the luggage with me in the trunk, and then check-in later. Lugged my belongings to the car rent place and asked for a car. Sorry, but there are no more cars available today for rent. Besides, the minimum rent period is for twenty-four hours anyways.
Trapped in the airport like in that film with eight hours to kill, what is a person to do? That's pretty much what I did, such a waste of my free day but might as well make the best of it.
Read a bunch, walked around aimlessly, tried to sleep. There are only six and half hours to go. Listened to some Led Zeppelin and Neil Young on my CD Walkman, had a cup of coffee, tried to sleep. Four hours and twenty minutes to go. Read some more and had another cup of coffee, paid two lousy pounds to do some Internet surfing and sent an email to my wife saying that I was bored. Had a ham and cheese sandwich and a giant blueberry muffin, bought some gifts for the kids, walked around some more. Two hours to go and it was becoming very busy, lively and noisy again with the afternoon injection of travelers. Tried to meditate but could not get in the mood.
(There was this old guy sitting two seats down from me who had entered my territory two hours earlier. Could he be trapped in the airport like me? Perhaps it was just my alter ego trying to make me feel better than I should)
So before I realized it I could board the plane which was leaving ahead of schedule. Hurrah. Then fifty more minutes of flight and I was in good old Holland again. Thea and Sabien were there to pick me up and I was happy to see them again, to be back home. No use complaining or being grumpy about it all.
It was just another interesting experience which is bound to happen and spice up ones life once in a while.