Fortunately for me, I decided to leave work one hour earlier yesterday afternoon. Had I heeded to my usual predictable routine and left sixty minutes later, it could have been a whole different story.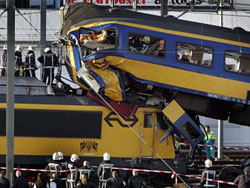 Treinbotsing bij Amsterdam CS
Try to be careful out there. The mistress of fate is not always as forgiving as you might hope she would be.