On my way to the checkout counter at the local drugstore called Kruitvat I just happened to turn my head the right way at the right angle when I spotted it. All I wanted to buy was some shaving cream and deodorant, and then I caught it in the corner of my left eye.
The Shostakovich: Symphonies (Box Set), complete CD-collection of Shostakovich's symphonies 1-15 (WDR Sinfonieorchester, Rudolf Barshai) for only € 16!
So I bought the eleven CD-box and I was happy. In fact, I am listening to it now. I must admit that it is a rendition that I am not used to, less upbeat, slower and more extended, but it sounds really good.
Once in awhile you deserve a good deal in life, don't you think?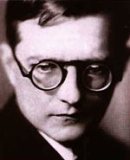 Dmitry Shostakovich (1906-1975)
by far one of my most favorite composers of all-time.