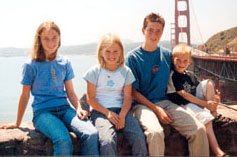 Once in awhile, someone tells you something that ends up really sticking in your mind. That is exactly what happened to me while I was visiting the family and friends back in America during my summer vacation a few weeks back. It was a wonderful and sunny day up in the green hills surrounded by Eucalyptus trees. We were all celebrating our reunion with a fun picnic, great food and some friendly baseball. At the end of the afternoon when it was time to say good-bye, my favorite uncle Dick came up to me, gave me a warm hug, and then he whispered the following in my left ear:
"You've got four beautiful children and a wonderful wife. What else does a man want in life?"
Maybe to some this statement may sound trite, but for me it struck a vital chord deep inside of me. It started to make me think. In fact, since he has said this to me, not a single day has passed without me thinking about the kind statement. The comments are now especially true considering the situation in my life.
You know, I need to settle down and enjoy the wife and kids more.