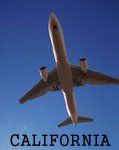 Well, it's now almost official, less than twenty-four hours to go. Tomorrow morning it is off to good old sunny California. Most everything is packed already, and it is high time for the Gish family to shove off and get out of here. It will be a grand escape and a fine adventure for all of us. Especially the kids cannot wait. For all of them it will be the first time in a plane (Lennart was ten months old the last time, so that does not really count). More than likely, my attention to blogging will decrease dramatically, but that does not matter. Having a fun and relaxing vacation takes priority over blogging. Not that the two are mutually exclusive, but nonetheless feeling the urge to blog all over the place will be less, much less. Don't want to let you guys down, but that's the way it has to go. Need to recharge the blog batteries. Once in a while maybe, I can surprise the reader with an occasional blob of text, that is when I get the opportunity to connect to the Internet. You never know, but do not get your hopes up too much. The tentative travel plans for the time being are to stay the first two weeks in California: at my mother's house in Monterey, then going to Pacific Grove, Carmel, Big Sur, Santa Cruz, Palo Alto, San Francisco, Oakland, and if there is enough time left over Bear Valley. On the flight back, we stop a week on the East Coast by landing at Dulles Airport. There we will be visiting my two sisters: Martine in Fairfax, Virginia and then to Kathleen's house in Annapolis, Maryland. See you in a little over three weeks, and enjoy life please.
Spent my days with a woman unkind, Smoked my stuff and drank all my wine. Made up my mind to make a new start, Going To California with an aching in my heart. Someone told me there's a girl out there with love in her eyes and flowers in her hair. Took my chances on a big jet plane, never let them tell you that they're all the same. The sea was red and the sky was grey, wondered how tomorrow could ever follow today. The mountains and the canyons started to tremble and shake as the children of the sun began to awake.

- Led Zeppelin, Going To California.