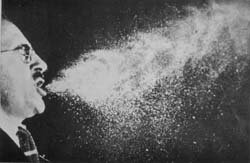 I happened to come across this quote the other day, and it really started to make me think: "If you sneeze too hard, you can fracture a rib. If you try to suppress a sneeze, you can rupture a blood vessel in your head or neck and die."
So the next time you get the urge to sneeze, try to hold it in. Or else.
But then again, I always learned when I was little that you could very well blow a blood vessel by actually "holding back" the urge to sneeze. Let the sneeze come naturally, otherwise it explodes outwards and causes more collateral damage than is necessary. You can only suppress a sneeze for so long, and the act of resisting does not help.
Can you imagine dying from something so seemingly innocuous as a sneeze, no matter how mighty a sneeze it could be? Sudden, involuntary, explosive death, instantly and without remorse.
How embarrassing. "He succumbed unexpectedly from a hefty sneeze" would appear in your obituary. Or better yet, the following last words would be etched on your tombstone: "Achooo..."
So please tell me then, why do we sneeze in the first place?
Suddenly it comes, natural forces pushing through the artificial man-made obstacle of clenched fist pressing hard, germ particles, mucous and other unpleasant speckled wetness covering a radius of at least ten feet around you.
So who is right now, anyway? Don't fight it.