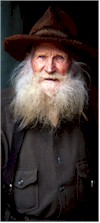 Me in ten years.
Growing a beard can be a new and interesting challenge in life. Stubbles and itchiness, followed by a full flowing covering of fur to keep you warm and hide your mug. There are advantages, but there are also disadvantages. Here is a list to help you compare and decide for yourself.
Advantages:
looks really cool and different.
you do not have to shave every morning.
distinctive look and wise visage.


gives one confidence to confront issues.
hides your ugly mug pretty well.
nice change of appearance.
covers up pimples and blemishes nicely.
a new image and philosophy in life.
Disadvantages
:
extreme itchiness, at least in the beginning.
grey spots make you look old.


shocks some people.
collects food crumbs without you knowing it.
not very representative of the company.


you look like a criminal.
comes across as hostile or antagonistic.
repeated taliban jokes behind your back.


There is no clear winner between the advantages and the disadvantages. Weighing both sides of the issue and putting them in perspective should give you a better indication of whether or not it is a good idea for you too to grow a beard. Seriously now. Have you ever truly wondered what a beard is by definition? What are the common beliefs centered around the phenomenon called a beard? I have, endlessly of course. I stole the following official definition from
Dictionary.com
site:
beard(bîrd) n.
The hair on a man's chin, cheeks, and throat.
A hairy or hairlike growth such as that on or near the face of certain mammals.
A tuft or group of hairs or bristles on certain plants, such as barley and wheat.
One who serves to divert suspicion or attention from another.
Printing. The raised slope on a piece of type between the shoulder or counter and the face. Also called neck.
tr.v.
beard·ed,
beard·ing,
beards


To furnish with a beard.


To confront boldly.


[Middle English berd, from Old English beard. See bhardh-
- in Indo-European Roots.]
beard
less adj.
Okay, that's pretty much it for beards right now. Getting carried away again. I will keep my readers updated on the future of my beard. Itch, itch.