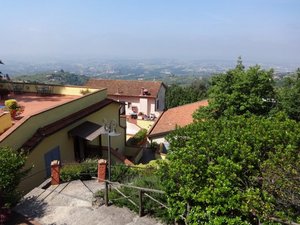 Terraces in back of the hotel with view.
We had a truly wonderful time in Tuscany where we spent the week having a fun and relaxing break away from the chaotic world. The week passed by quickly, but we were able to experience the surroundings intensely as well as balancing activities with a sound spiritual peace, for example long reads and/or naps in the terrace gardens behind the hotel.
The climate was agreeable and the food was excellent. We stayed at the Hotel Bellavista in a small village called San Baronto. It was located way up in the hills with an awe-inspiring view of the valley below, about a one hour drive north of Florence.
Our host was Giuseppe and he was a cordial person, always positive. He did his best to spoil us with various tasty pasta dishes and a healthy sense of humor.
We rented a putt-putt car. Like typical wild Italian drivers, we sped across the countryside, zipping around steep mountain curves, zig-zagging through the complex labyrinths of medieval city centers, and seeing amongst other places: Florence, Lucca, Pisa, Viareggio, Prato, Vinci (birthplace of Leonardo da Vinci), etc.
Have a look at the photo album to get a better appreciation of our stay.