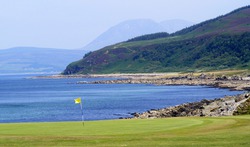 "The true (golf) pilgrim wanders off to the outlying, the more humble and obscure courses. For it is on those unsung courses, on a damp morning in April or a blustery afternoon towards the end of October, that you may look around at your friends, the pulsing light on the grey sea, the undulating fairway, the club in your still singing hands and the distant green, and know yourself in earthly heaven..."
Preferred Lies, A journey to the Heart of Golf
- Andrew Greig.
That's why within the month I'm planning a spiritual golfing trip to Scotland so that I can play Shiskine, Gigha, Prestwick and other fine courses in the area. Even if it means getting wet and having to play under gale-force conditions.