My first round of golf while back home was just next door at the Laguna Seca Golf Ranch. What a fantastic course it is and quite challenging to say the least. I played with Kevin and Mike who were a couple of nice guys, just as much addicted to golf as me (if that's possible).
By the way, in case you were interested "laguna seca" is Spanish for "dry lake."
There was alot of wind and the greens were really fast, making three or even four putts a higher risk. In fact, although the greens were in perfect shape, sometimes I felt like I was putting on a pool table slanted slightly at 15 degrees. The ball just never stops rolling, rolling, rolling.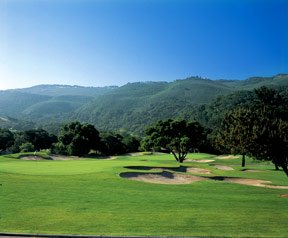 Laguna Seca Golf Ranch.